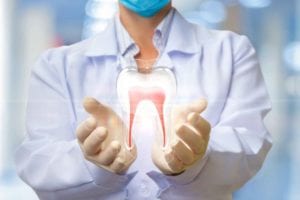 When you need to have a complex procedure done on your teeth or in your mouth, such as wisdom teeth removal, your dentist may recommend you visit an oral surgeon. While an oral surgeon may initially sound interchangeable with a dentist, they fulfill different roles and have different educational and training experience when it comes to dental health.
Below is a guide to help Middle Tennessee patients understand the difference between dentists and oral surgeons.
What Is a Dentist?
A dentist is the primary dental care provider. Dentists normally complete four years of undergraduate school. Following that, they complete the Dental Admissions Test (DAT) and attend four or five years of dental school. After education, dentists receive either a Doctor of Dental Medicine (DMD) degree or a Doctor of Dental Surgery (DDS). There is no important difference between a DDS and a DMD, both have the same curriculum requirements.
What Does a Dentist Do?
Dentists usually operate in private or group offices. They are concerned with the general health and preservation of the teeth and mouth. The responsibilities of a dentist include:
Performing routine check-ups on patients every six months
Supervising technicians and staff
Diagnosing and treating issues with the gums and mouth
Dental restoration including – fillings, sealants, crowns, bridges, and root canals
Using X-rays to diagnose teeth
Performing tooth extractions
Developing a patient's treatment plan
Educating patients on preventive dental care
What Is an Oral Surgeon?
An oral surgeon, also known as an oral and maxillofacial surgeon, is a specialist who usually receives the same education as a general dentist, which includes four years of undergraduate school, passing the DAT, and four or five years of dental school. After receiving a DDS or a DMD, oral surgeons complete a residency at a hospital that lasts between four to eight years in order to become dental surgery specialists.
What Does an Oral Surgeon Do?
Dentists refer patients to oral surgeons for more complex surgeries and procedures involving the mouth, jaw, or even the face. They often treat cancer patients and accident victims, and sometimes work with medical professionals as a part of larger surgical teams. In addition to most of the responsibilities of a dentist, some additional items oral surgeons also are responsible for:
If you specifically need to see an oral surgeon, contact OMSNashville and schedule an appointment today.
The information and content on our website should not be used as a substitute for medical treatment or advice from your doctor.