Contact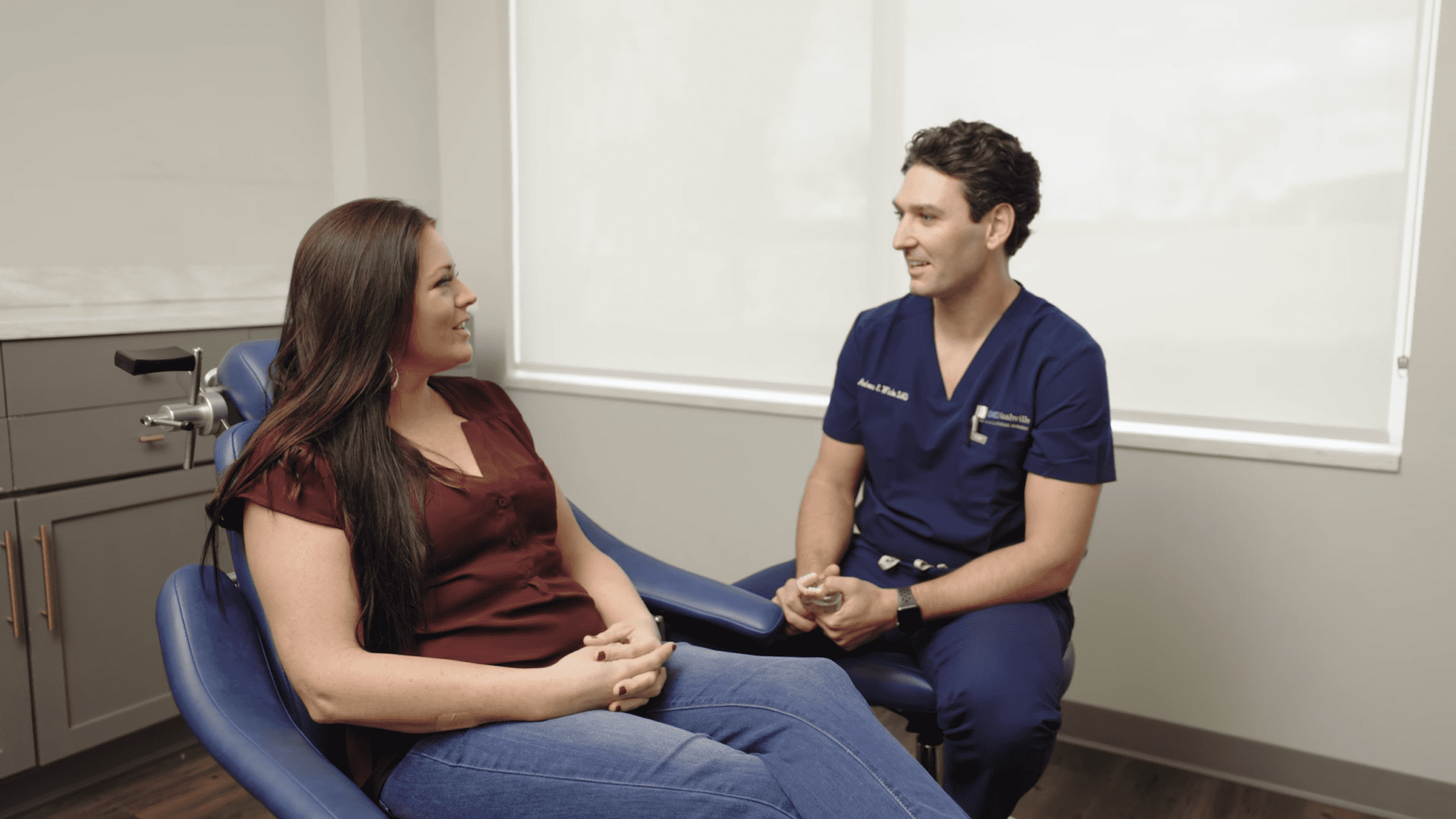 The ultimate goal of any dentist is to help preserve your natural teeth. In some cases, however, teeth become either too damaged or too decayed, to the point that they are beyond rescue. In these situations, patients are typically referred to an oral surgeon where the tooth can be extracted and ultimately replaced.
OMS Nashville is a trusted and experienced oral surgery practice serving patients in Middle Tennessee. We have ample experience performing extractions and can give you comfort and peace of mind throughout the procedure.
So, What is a Tooth Extraction?
A tooth extraction simply refers to the clinical removal of one or more teeth. This is usually considered to be the last resort for teeth that cannot be salvaged in any other way.
While extraction may sound like a straightforward process, it can actually be fairly complex. In some situations, a tooth may be broken into multiple pieces. In other cases, a tooth may still be submerged in the gum, requiring the surgeon to cut it out.
Teeth extractions may be performed with localized anesthesia. In some cases, general anesthesia may be necessary. Our surgeons at OMS Nashville are equipped to provide exemplary care and to ensure your wellbeing throughout the process.
Following a tooth extraction, patients may choose from a number of options to replace their lost tooth, with dental implants being one of the most common solutions.
Reasons Why a Tooth Extraction Might Be Necessary
Ultimately, the whole purpose of brushing, flossing, and routine dental checkups is to preserve your natural teeth for as long as possible, sparing them from decay and other kinds of deterioration. Nobody ever sets out to have their teeth extracted, but in cases where teeth are simply too far gone, extraction may be the only option.
Additionally, extraction may be recommended in these situations:
Severe Tooth Decay
Sometimes, bacteria invade the pulp of the tooth and lead to irreversible decay. When not even a root canal can help, tooth extraction is really the only option.
Loose Tooth
Adult teeth should never feel "loose," and if they do, it could be due to periodontal disease. Extraction may be one viable option for correcting this problem.
Impacted Teeth
Sometimes, a tooth will not fully erupt through the gum tissue. This is most common with wisdom teeth. Extraction may be the only way to get those teeth out.
Types of Tooth Extractions
Depending on the underlying pathology, your oral surgeon may recommend either simple tooth extraction or surgical tooth extraction. We perform both types of procedures in-house.
Simple Tooth Extraction
When the tooth in question is in one piece and is fully visible within the mouth, it can usually be removed with a simple extraction. This procedure is done under local anesthesia and may be completed in as little as 20 minutes. Your surgeon will quickly but carefully dislodge and remove the tooth.
Surgical Tooth Extraction
For teeth that are badly broken or impacted, surgical tooth extraction may be the only option. This procedure is usually done under general anesthesia. It involves the surgeon making an incision along the gum tissue, giving them the ability to completely remove the tooth. Even if that tooth is in one piece, the surgeon may cut it into smaller fragments to make it easier to remove.
About Our Practice
OMS Nashville has been treating patients for more than 30 years. In that time, we have developed a reputation for high standards of patient care and surgical expertise. Our providers perform countless tooth extractions each and every week, giving us unique insight into how to do the procedure safely, smoothly, and comfortably. Take a moment to learn more about our committed team of oral health professionals.
How Much Does a Tooth Extraction Cost?
The cost of a tooth extraction can vary quite a bit, ranging from under $100 to more than $4,000. The main variables are the type of tooth extraction required and the number of teeth that need to be removed. Note that OMS Nashville offers patients a wide variety of flexible financing options.
Will My Dental Insurance Cover Teeth Extraction?
In some instances, tooth extraction may be covered, at least in part, by dental insurance. This is particularly true for simple extractions that are deemed medically necessary. Our office will always work with you to try to maximize your insurance reimbursement. Keep in mind our different payment and financing solutions, as well.
What to Expect for a Tooth Extraction
When you join us at one of our convenient Nashville locations for tooth extraction, we hope you will feel as comfortable and as peaceful as possible. It may help to have some basic expectations about what the process will bring.
The Initial Consultation
Before we remove any teeth, we will want to sit down with you, perform a full evaluation of your oral health, and take some images of your teeth. Not only does this help us assess your needs, but it also helps us see if there are any other remedies that might suffice in place of tooth extraction. Additionally, we need to identify any underlying periodontal disease or other issues that require treatment prior to your tooth extraction.
Preparing for the Procedure
Before your tooth extraction, we will typically recommend fasting for at least 12 hours. If you are having a surgical tooth extraction performed under general anesthesia, then you will also want to arrange to have someone drive you home. Avoid blood thinners before your procedure, and make sure you ask your oral surgeon about pain management and aftercare instructions, all of which can help facilitate a more expedient and comfortable recovery. Reach out to our office if you have specific questions.
Anesthesia Options
Depending on the surgical needs and patient preferences, OMS Nashville is pleased to offer multiple options for anesthesia. Specifically, we provide both IV sedation and local anesthesia.
IV Sedation
For patients requiring a more complex or intensive procedure, we are happy to provide IV sedation so that there is no pain whatsoever during the surgery.
Local Anesthesia
Often, for simple tooth extractions, full anesthesia is not necessary. Instead, we can offer localized anesthesia to prevent any discomfort as your tooth is removed.
During the Procedure
In a simple tooth extraction, you will receive localized anesthesia, and then the tooth will be loosened with a tool known as an elevator. From there, your surgeon will remove the tooth with forceps.
For surgical extractions, you will be sedated, and then your surgeon will make an incision in the gum tissue. The surgeon may also have to cut away some bone before the underlying tooth can be removed.
How Long Does the Procedure Take?
The duration of your tooth extraction depends on the type of procedure you require, as well as the number of teeth you are having removed. For simple tooth extraction, we can often complete the procedure in as little as 20 to 40 minutes. For surgical tooth extractions, the process may take closer to an hour or more.
Does a Tooth Extraction Hurt?
Without any kind of sedation, having a tooth pulled would be quite painful. This is why we make sure that our patients always receive anesthesia of some kind in order to guarantee that their procedure is perfectly comfortable. Following the procedure, pain management tools will be available, including OTC painkillers as well as prescription options.
Recovery from a Tooth Extraction Procedure: The Process
Following your tooth extraction, you can anticipate a few days spent in recovery. By following your surgeon's aftercare instructions, you can expedite your recovery and minimize your risk of complication.
What is the Tooth Extraction Recovery Time? How Long to Heal?
The recovery timeline can vary depending on whether you have a simple extraction or a surgical extraction.
Following a simple tooth extraction, the recovery time is fairly minimal. Your surgeon may recommend that you take two to three days to rest and relax, allowing the treatment area to clot. You can return to normal, everyday activity afterward, though you may have some minor soreness or swelling for up to three weeks.
For a surgical extraction, you will need to rest and relax for two to three days and abstain from strenuous physical activity for at least a full week.
How Long Should I Expect to Be Out of Work or School?
One of the most common questions we hear from our patients: How long do I need to stay home following my tooth extraction?
If you have a simple extraction, you may return to work in just 48 to 72 hours, assuming there are no complications. If you have multiple teeth removed, it may take just a little longer for you to feel like you have bounced back.
Following a surgical tooth extraction, you may return to work within 48 to 72 hours, just so long as your work does not require heavy lifting or other physically taxing activities.
Will I Be Able to Eat Immediately After a Tooth Extraction?
We generally recommend that patients stick to soft foods for the first 24 hours after tooth extraction. Think ice cream, Jell-O, and other foods that do not require a lot of chewing. After that first day, you can begin transitioning back to a more regular diet as soon as you feel able.
How Long Will the Pain Last and What Can I Do for Pain Management?
For some patients, the pain associated with a tooth extraction may last up to two weeks. However, the majority of patients tell us that most of their pain subsides within the first 48 hours or so. Your surgeon will talk with you about different options for pain management, which may include prescription painkillers as well as certain OTC pain remedies. Usually, we recommend using Advil and Motrin during the day and saving the narcotics for closer to bedtime.
Replacing an Extracted Tooth
Of course, when you have a tooth removed, you will ultimately need to have it replaced. While there are a number of ways to do this, dental implants generally remain the most steady and lasting solution. We are pleased to provide our skills in dental implants and are happy to talk with you about treatment options at OMSNashville.
Experienced Oral Surgeons for Wisdom Tooth Extraction in Nashville
Our practice boasts decades of experience, a commitment to patient comfort and satisfaction, and accessible locations throughout the area. To learn more about tooth extraction in Nashville and surrounding cities such as Bellevue, Brentwood, Mt. Juliet, Nashville, Springfield, Gallatin, Goodlettsville, and Hendersonville, contact OMS Nashville today. We would love to schedule you a consultation with one of our highly experienced oral surgeons.