Contact
Tooth loss is a condition that impacts millions of Americans. There are a number of reasons why you might lose your adult teeth, whether due to an accident or dental neglect. Regardless, when you either lose your teeth or need to have them extracted, it is crucial to understand your options for tooth replacement. Dental implants offer one of the most comfortable, convenient, and long-lasting ways to once again enjoy a healthy smile.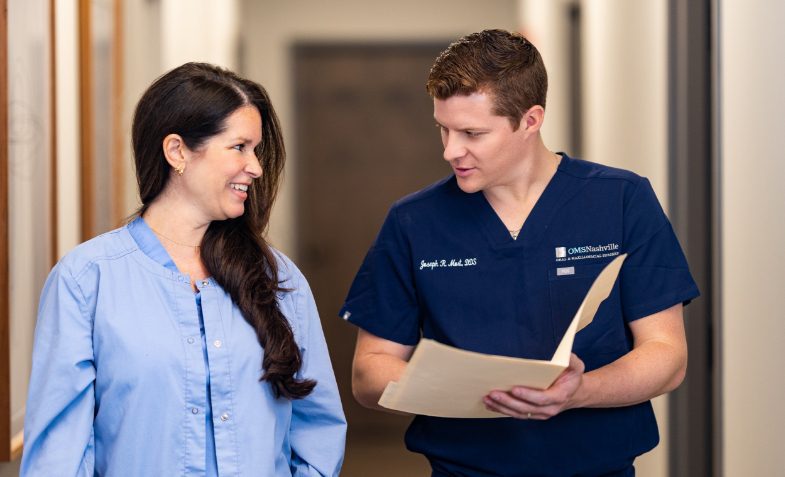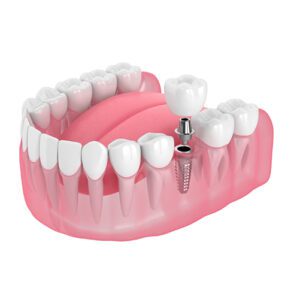 What Are Dental Implants?
When comparing natural teeth to dental implants, you will see that they have the same basic parts. Both have a crown (the visible part) used to chew and a root that holds the tooth securely under the gum and is anchored into the jaw. The implants themselves are tiny titanium posts that are surgically placed into the jawbone where teeth are missing. These titanium implants act as the tooth root substitutes.
As the area heals, the implants are beneath the surface of the gums allowing the bone to integrate with the titanium, creating a strong foundation for artificial teeth. After the implant has integrated into the jawbone, your oral surgeon will uncover the implants and place small support posts (abutments) that protrude through the gums on the implants to provide stable anchors for the artificial replacement teeth (crowns). When the crowns are placed, the abutments will not be seen. In many cases, a temporary replacement tooth can be attached to the implant immediately after it is placed.
Are You a Good Candidate for Dental Implants?
Tooth loss is a common occurrence, one that millions of Americans have to contend with. One of the best options for replacing lost teeth is dental implants, which provide a steady, secure way to restore your smile. OMS Nashville has decades of experience providing implants; for oral healthcare you can depend on, reach out to our practice today.
Call Us Directly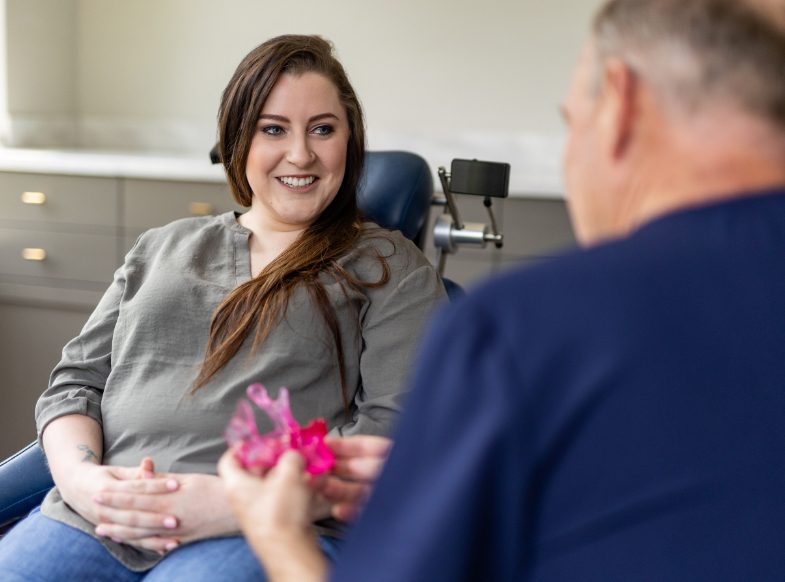 The Benefits of Getting Dental Implants
Dental implants can be your doorway to renewed self-confidence and peace of mind. They will improve the look of your smile and your ability to chew and function properly. There are many long term benefits to replacing missing teeth with dental implants; primarily, they improve the following:
How We Determine Candidates for Dental Implant Surgery
If you have lost teeth or are facing the need to have teeth extracted, you may be a good candidate for dental implants. The best way to determine for sure is to join us at one of our convenient OMS Nashville locations, where one of our surgeons will help to evaluate your candidacy for implants. Generally, the best candidates for dental implants meet the following criteria:
In good overall oral health. The best candidates for implants will not have untreated gum disease or other underlying conditions.
Sufficient underlying bone structure. It is also important to have sufficient jawbone in which the implant can be placed.
Missing or removed teeth. Candidates for dental implants will typically be missing at least one tooth and often multiple teeth.
If you have moderate to significant bone loss, you may benefit from having additional bone grafting done to ensure adequate support for your dental implant.
About Our Practice
The surgeons at OMS Nashville boast decades of combined experience and a long track record of impressive results. We take pride in our advanced technology, our technical know-how and our ample hands-on experience; we are specialists in our field and perform dental implant procedures regularly. Additionally, we offer convenient, accessible care through our multiple locations. We would love to tell you more about OMS Nashville and our commitment to patient care. Take a moment to learn more about our dedicated, compassionate team.
What Types of Prostheses are Used with Dental Implants?
A dental implant is essentially an artificial root that is screwed into your jawbone. Different types of prostheses, or artificial teeth, may be affixed to the implant. Some of the most common examples include:

A Crown
A single prosthesis (crown) is used to replace one missing tooth – each prosthetic tooth attaches to its own implant.

Fixed Dental Bridge
A partial prosthesis (fixed bridge) can replace two or more teeth and may require only two or three implants.

Complete Dental Prosthesis
A complete dental prosthesis replaces all the teeth in your upper or lower jaw. The number of implants varies depending upon which type of complete prosthesis (removable or fixed) is recommended. A removable prosthesis (over denture) attaches to a bar or cylindrical attachments, whereas a fixed prosthesis (fixed hybrid denture) is permanent and removable only by the dentist.