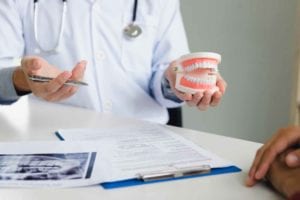 Wondering when you may need to see an oral surgeon in Nashville like the team at OMSNashville instead of a general or family dentist?
Below is a list of the top 5 most common reasons that people may need to see a specialist for oral surgery in Nashville.
To Treat An Impacted Tooth
When a tooth is "impacted," this means it has not fully erupted through the gums and become a functional tooth. This is very common with wisdom teeth. If your wisdom teeth are impacted and/or non-functional, they may need to be extracted to treat or prevent issues, such as pain, decay, or infection.
More rarely, kids and teenagers may have other impacted teeth, such as canines or premolars, that are not growing into the mouth properly. These can often be treated surgically, along with orthodontics, to expose them and shift them into the proper position.
To Have A Dental Implant Placed
Dental implants use a titanium post that is implanted directly into your gums and jaw, which supports a crown or another prosthetic. After the implant heals, it bonds with your jaw permanently, providing you with a long-lasting restoration that can easily last 30+ years. It's usually best to work with an oral surgeon to ensure your implant is placed properly prior to being restored with a tooth.
To Help With TMJ/TMD (Temporomandibular Joint Disorder)
TMJ/TMD refers to issues that affect the temporomandibular joint. This is the small and delicate joint near either side of your ear, and is the joint between your skull and lower jawbone. If it's damaged or inflamed, it can cause serious jaw pain and other complications. Surgery is a last resort, but occasionally is a useful option to help correct this issue.
To Correct Major Bite And Jaw Issues With Orthognathic Surgery
If you have major bite problems, orthodontics alone may not be enough to resolve them. In this case, orthognathic surgery (corrective jaw surgery) may be required along with orthodontics to correct the position of your jaws and teeth. This can improve your bite, function, esthetics, and confidence.
To Get An Oral Lesion Biopsied Or Removed
If your dentist notices a lesion or irregular patch of tissue during an oral cancer screening, you may need to see an oral surgeon to have it removed and biopsied.
Know If You Need To See An Oral Surgeon In Nashville!
If you've got any of the above oral health issues, you may need to see an oral surgeon. Give us a call at (615) 822-8403 and tell us about your oral health issue. Our team can help you determine the best option for your needs.
The information and content on our website should not be used as a substitute for medical treatment or advice from your doctor.