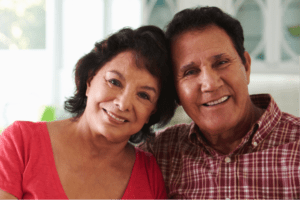 All-on-4 is a dental technique where a full set of teeth is supported by four dental implants. Tooth loss is not rare. More than 35 million Americans are missing all of their upper or lower teeth. All-on-4 dental implants can give these people increased quality of life without the hassle of traditional dentures.
How Do Traditional Implants Work Vs. All-on-4 Implants?
Dental implants are done with a minor surgery to implant a titanium screw into the jawbone, sitting where a tooth's normal root structure would be. The screw is then fitted with a "crown" to give the appearance and function of a normal tooth.
Titanium is specially chosen for use in dental implants because it will eventually fuse with living bone, creating a long-lasting and sturdy foundation for false teeth. Such fusion of bone to metal also prevents future loss, keeping a youthful facial structure and improving oral health.
While traditional dental implants can be done to replace a single tooth, four of these screws can be enough to hold an entire upper or lower set of teeth firmly in place with All-on-4 implants.
How Long Does The All-on-4 Procedure Take?
All-on-4 procedures provide permanent, same-day replacement of teeth. The procedure usually takes 2.5 hours for each arch. Patients leave the same day of their surgery with a temporary set of replacement teeth. Their permanent set will be put in once their jaw has healed from the surgery, usually in 6 to 8 months.
What Are The Benefits of All-on-4?
All-on-4 implants have advantages over other forms of dental implants. Not only do they require considerably fewer implants (other options for replacing a full upper or lower set of teeth require six to eight implants), All-on-4 implants are set into the jaw at an angle, increasing the amount of bone-to-implant contact and decreasing the likelihood of a patient needing a bone graft.
Additional benefits of All-on-4 implants include:
Do not need to be taken out
Brushed and cleaned like natural teeth
Require no adhesives to stay in place
Offer increased comfort because they do not push on the gums
Allow the experiencing of food's temperature, not just taste
Can bite with increased force over other implants, allowing people to eat their favorite foods
All-on-4 dental implants offer people suffering from tooth loss full sets of prosthetic teeth with little stress. They enhance a person's quality of life by allowing them to eat favorite foods, increasing confidence in appearance, and ridding oral pain.
What Is The Success Rate for All-on-4 Implants?
As with any surgery there are always risks. However, All-on-4 has a very high success rate. According to published studies, All-on-4 is 98% successful. Since this is a minimally invasive procedure, patients report little discomfort.
What Is The Cost for All-On-4 Treatment?
Typically the cost for All-on-4 implants is significantly less than other similar procedures being that the complete treatment takes place in one day. The cost may vary for patients depending on their dental needs. Insurance may also cover part of the procedure.
What Are My Next Steps?
If you are interested in learning more, the next step is to contact OMSNashville to schedule a consultation. We can help determine if All-on-4 is right for you and answer any questions you may have about the treatment or the cost. Call us at 615-822-8403.
The information and content on our website should not be used as a substitute for medical treatment or advice from your doctor.