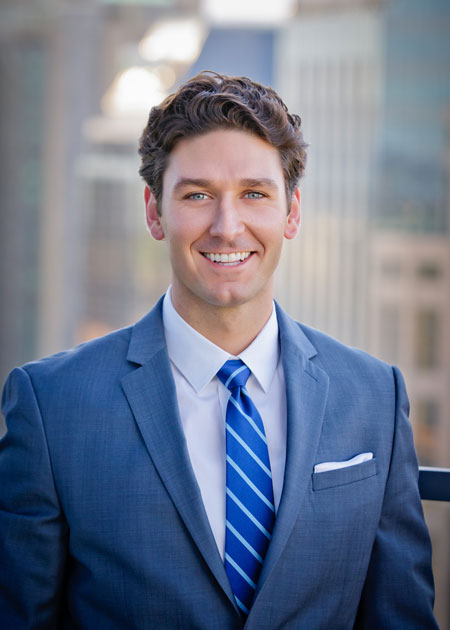 Dr. Andy Wicke is a Nashville native, growing up in Hendersonville, TN. He received his Bachelor of Science degree from Belmont University, while also playing on the Men's Basketball team. After Belmont, he graduated with honors from the University of Louisville School of Dentistry. He then finished his training by completing Oral and Maxillofacial Surgery residency at Vanderbilt Medical Center in 2017.
Dr. Wicke is eager to get started with OMS Nashville this year. He wishes to continue his full scope training in the Nashville community and enjoys dentoalveolar surgery (extractions/bone grafts/implants), orthognathic surgery, oral pathology, trauma and treating TMJ disorders.
Dr. Wicke enjoys traveling and using his training throughout his travels. He has participated in many mission trips from Eastern Europe, South Africa, Central America and South America. He also enjoys volunteering locally with Remote Area Medical (RAM) and the Interfaith Dental Clinic.
He enjoys spending his time with his friends and family, being active and enjoying the outdoors with his wife (Emily) and his daughter (Eden) and his son (Everett).
WORK EXPERIENCE, EXTERNSHIPS & CERTIFICATIONS
Surgical Rotation in Bogotá, Colombia
December 2016
Oral Pathology Rotation at the University of North Carolina
April 2016
Oral Surgery Committee Representative, Interfaith Dental Clinic
July 2015 – June 2017
Pediatric Advanced Life Support Certification
July 2013-Present
Advanced Cardiac Life Support Certification
July 2013-Present
Advanced Trauma Life Support Certification
July 2015 – Present
OMFS Externship (Vanderbilt University)
June – July 2012
OMFS Externship (University of Louisville)
June 2012
OMFS Externship (University of Tennessee Knoxville)
December 2011

EDUCATION
Vanderbilt Medical Center
Surgical resident in the Department of Oral and Maxillofacial Surgery (OMFS)
July 2013-July 2017
University of Louisville School of Dentistry (ULSD)
Doctor of Dental Medicine Degree (DMD)
July 2009-May 2013

Belmont University
B.S. Environmental Studies
August 2004-May 2009

AWARDS & HONORS
Academy of Osseointegration Award
Recipient of the Outstanding Dental Student in Implant Dentistry, May 2013
American Academy of Oral Medicine Award
Recipient of certificate of merit for achievement, proficiency, and promise in the field of oral medicine, May 2013
Omicron Kappa Epsilon Inductee
Top dental students of the 2013 ULSD graduating class
Delphi Society Inductee
Recognition of student achievement in the biosciences. Students ranked in the top 15% of their class may be elected by faculty, November 2011
PUBLICATIONS
Electrocardiography Book Chapter, Co-author of Chapter 9: Electrocardiography, Office-based Anesthesia for the Oral and Maxillofacial Surgeon
VOLUNTEER ACTIVITIES & ORGANIZATIONS
American Association of Oral and Maxillofacial Surgeons
Active Member, July 2013 – present
American Dental Association
Active Member, July 2013 – present
Interfaith Dental Clinic
Provide care for patients of the clinic, July 2013 – present
Smile Kentucky
Local program providing dental care for underserved youth, February 2012
Louisville Catholic School Athletic Association
Volunteer assistant 7/8 grad basketball, November 2011 – February 2012
Remote Area Medical (RAM)
Performed free dental work for underserved communities, September 2011, June 2012, June 2010
International Service Learning Program Participant
Performed free dental work for one week to an underserved Mayan community in Red Bank, Belize, March 2011