Dental Implants
Dental implants are changing the way people live. They are designed to provide a foundation for replacement teeth that look, feel, and function like natural teeth. The person who has lost teeth regains the ability to eat virtually anything, knowing that their teeth appear natural and that facial contours will be preserved. Patients with dental implants can smile with confidence.
What Are Dental Implants?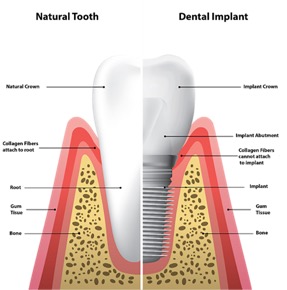 When comparing natural teeth to implant-supported replacement teeth, you'll see that they have the same basic parts. Both have a crown (the visible part) used to chew, and a root that holds the tooth securely under the gum and is anchored into the jaw. The implants themselves are tiny titanium posts that are surgically placed into the jawbone where teeth are missing. These metal anchors (the implants) act as the tooth root substitutes. As the area heals, the implants are beneath the surface of the gums allowing the bone to bond with the titanium creating a strong foundation for artificial teeth. After the implant has bonded to the jawbone, your oral surgeon will uncover the implants and place small support posts (abutments) that protrude through the gums on the implants to provide stable anchors for the artificial replacement teeth (crowns). When the crows are placed, the abutments will not be seen. In many cases, a temporary replacement tooth can be attached to the implant immediately after it is placed.
Dental Implant Surgical Procedure
To place a dental implant, the procedure typically requires 30-60 minutes for a single implant and 2-3 hours for multiple implants. Appointment times vary from patient to patient. In some cases, dental implants may be placed on the same day as tooth extraction. General anesthesia or nitrous oxide (laughing gas) are available for your procedure and a local anesthetic will be used to numb the area where the dental implant will be placed. The use of sedation will be discussed with you during your consultation appointment.
After you are comfortable, your oral surgeon will make a small incision in the gum tissue to reveal the bone, create space using special instruments, and will gently place the titanium implant. Occasionally, impressions will be made at the time the implant is placed in order to have your crown ready for when your implant has healed. For your comfort, the use of digital scanning may be used.
If you have moderate to significant bone loss, you may benefit from having additional bone grafting done to ensure adequate support for your dental implant.
Healing after Dental Implant Surgery
Using the most recent advances in dental implant technology, Drs. Burchfield, Richardson, McLeod, Shea, West, Hamilton, Wicke and Mort usually do not require a second procedure to uncover your dental implants. Follow-up visits are needed to ensure that you are healing properly and to determine when you will be ready for the restorative phase of your treatment.
Soft tissue grafting may be necessary to obtain a stronger, more natural appearing gum tissue in the area around the implant. This involves moving a small amount of gum tissue from one part of your mouth to the area around the implant. This is a brief and relatively comfortable procedure.
Dental Implant placement is a team effort between an oral and maxillofacial surgeon and a restorative dentist. While Drs. Burchfield, Richardson, McLeod, Shea, West, Hamilton, Wicke and Mort perform the actual implant surgery, initial tooth extractions, and bone grafting if necessary, your dentist fits and makes the permanent prosthesis. Your dentist might also make any temporary prosthesis needed during the implant process.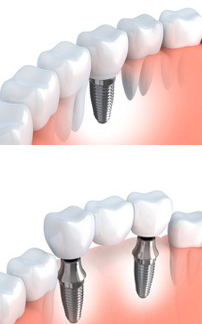 What Types of Dental Prosthesis Are Available?
A single prosthesis (crown) is used to replace one missing tooth – each prosthetic tooth attaches to its own implant. A partial prosthesis (fixed bridge) can replace two or more teeth and may require only two or three implants.
A complete dental prosthesis (fixed bridge) replaces all the teeth in your upper or lower jaw. The number of implants varies depending upon which type of complete prosthesis (removable or fixed) is recommended. A removable prosthesis (over denture) attaches to a bar or cylindrical attachments, whereas a fixed prosthesis is permanent and removable only by the dentist.
Drs. Burchfield, Richardson, McLeod, Shea, West, Hamilton, Wicke and Mort perform in-office implant surgery in an operating suite, thus optimizing the level of sterility. Inpatient hospital implant surgery is for patients who have special medical or anesthetic needs or for those who need extensive bone grafting from the jaw, hip or tibia.
Why Dental Implants?
Once you learn about dental implants, you finally realize there is a way to improve your life. When you lose several teeth – whether it's a new situation or something you have lived with for years – chances are you have never become fully accustomed to losing such a vital part of yourself. Not only does it affect the way you look, but it can also lead to other physical problems that may affect your health and prevent you from smiling with confidence.
Dental implants can be your doorway to renewed self-confidence and peace of mind. They will improve the look of your smile and your ability to chew and function properly. There are many benefits to replacing missing teeth with dental implants, primarily that they:
Function, feel and look like natural teeth
Preserve facial structure by preventing bone deterioration that occurs when teeth are missing
Maintain the integrity of bone structure after tooth loss
Preserve the health of adjacent teeth, unlike bridges
Provide a permanent replacement for dentures that won't slip or irritate the gums
Require no special care, no food restrictions, and last a lifetime
Anterior (Front) Implants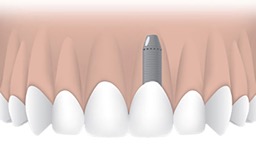 When replacing a missing front tooth, it is important that the teeth and gums are in perfect harmony. Careful attention is paid to the shape and appearance of the gum tissue that surrounds the post of the implant. The health of the gum tissue is important to the overall healing process but also has a strong impact on the final appearance of your smile. To allow the implant post and surrounding bone to become fully integrated, you may be fitted with a temporary crown or removable flipper during the healing period (approximately 2-3 months). Once a secure foundation has been established, the custom-designed dental crown will be placed.
Posterior (Rear) Implants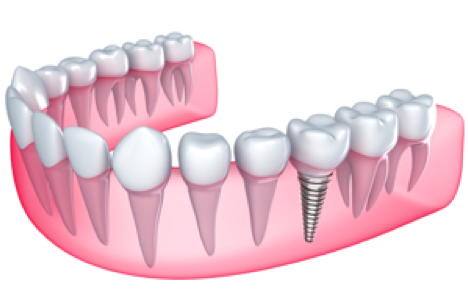 Your back teeth not only incur large amounts of pressure and force during meals, but also serve as the framework that gives your face its natural contours. It is equally important that these teeth look and function like your front teeth. We will select an implant post that is sturdy enough to provide you with long term biting and chewing efficiency. Replacing your back teeth with durable and attractive dental implants can provide you with the comfort and function that you once enjoyed with your natural teeth.
Why Select Dental Implants Over More Traditional Types of Restorations?
There are several reasons:  Why sacrifice the structure of surrounding good teeth to bridge a space? In addition, removing a denture or a "partial" at night may be inconvenient, not to mention that dentures that slip can be uncomfortable and rather embarrassing.
The stability, function and esthetics of dental implants is unparalleled. The oral surgeons at OMSNashville understand that each smile is unique. Drs. Burchfield, Richardson, McLeod, Shea, West, Hamilton, Wicke and Mort customize the size and fit of your dental implants to uniquely fit your mouth giving you the most natural looking results. No one will even be able to tell the difference between your natural teeth and your restored teeth.