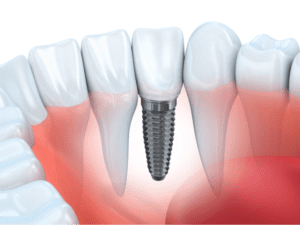 In days gone by, when people lost teeth, there wasn't much to do about it. Thanks to the last 25 years of innovation, patients no longer need to live with gaps in their smile. Dental implants are now an important step along the road to a healthy and complete jaw.
What is a Dental Implant?
For patients who have experienced tooth loss due to trauma, periodontal disease, or any other reason, dental implants may be suggested. Contrary to popular belief, the term refers directly to the use of a replacement root. Once inserted, they are not visible. Replacement teeth or bridges can be inserted into these anchors but are not considered "dental implants."
Endosteal implants are the most common implants. They involve screws fabricated of titanium being installed into the bones of the jaw. This method is often used for patients with bridges or as an alternative to removable dentures.
What are the Benefits?
Dental implants are constructed with titanium or titanium alloys. This is an ideal material because it fuses to bone through a process called osseointegration. When tooth loss occurs, the structural density of the jaw suffers. Implants stabilize the bone, creating a strong base. Additional procedures, including the installation of replacement teeth, are then more likely to succeed.
Implants also assist in maintaining the overall shape of the jaw. This is important because the jaw helps to support the facial skeleton, and thereby the soft tissue of the face. A solid facial structure contributes to easier speaking, chewing, and smiling. A healthy smile leads to greater psychological wellbeing.
Some additional overall benefits to dental implants, according to the American Academy of Implant Dentistry include:
A strong base: Implants mean natural-looking and acting teeth, without incurring further bone deterioration.
A long-term solution: Dental implants are designed to be a life-long solution, rather than a short-term answer.
Cavity protection: By filling the empty space left by lost tooth structures, a patient is protected against decay better.
Fewer procedures: Some dental implants negate the need to use dentures.
If a surgeon has recommended dental implants, rest easy. With the highest success rate in an implanted surgical device, they are a safe bet. Keep your mouth and body happy with this life-long solution to tooth loss.
The information and content on our website should not be used as a substitute for medical treatment or advice from your doctor.