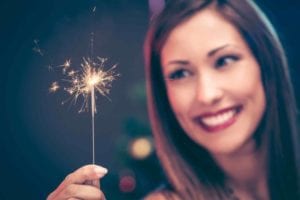 Confidence and self-esteem begin with a great smile, and the start of a new year is a great time to think about ways you can improve your smile. If you are like millions of other adults and have suffered the loss of all of your upper or lower teeth (or both), All-on-4 dental implants can be part of the solution.
What Are All-on-4 Implants?
Tooth loss becomes a much more common problem than many people realize as we age. Studies show that more than 35 million adult Americans have lost all of their upper and/or lower teeth. In the past, dentures have provided the typical solution to this problem, but dentures have a lot of drawbacks. They require frequent removal and cleaning in order to prevent infection. Without a proper fit, dentures can be uncomfortable or move around, causing pain or problems chewing.
Fortunately, new advances in dental technology have allowed patients to replace their lost teeth with a more permanent solution than dentures – All-on-4 dental implants. Implants are small screws made of titanium that oral surgeons use to replace the root of a missing tooth within the jaw. The surgeon then attaches a crown to the top of the implant, making it nearly impossible to tell that teeth are missing.
In the past, a single implant took the place of one missing tooth. Now it's possible to replace a full top or bottom set of missing teeth using just four implants – All-on-4 dental implants. This procedure involves the surgeon placing four screws in precise locations across the top or bottom arch of the jaw, then attaching a full arch of crowns to the implants.
What Are the Benefits of All-on-4 Implants?
All-on-4 dental implants are permanent. They do not require any additional adhesives or need to be removed and cleaned as dentures do. Instead, these implants are a true replacement for permanent teeth, and you clean, brush, and maintain them just as you would with your natural teeth. They allow you to chew with more force than dentures and experience the textures and temperatures of your favorite foods again. Finally and most important, implants provide support to the jaw bone that dentures do not, preventing the bone loss that can occur after losing teeth, and restoring your natural facial structure.
If All-on-4 dental implants sound like a good solution for your tooth loss, contact our office to schedule a consultation today.
The information and content on our website should not be used as a substitute for medical treatment or advice from your doctor.