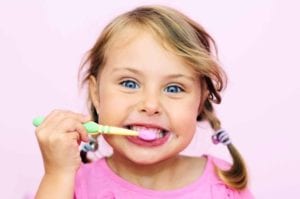 The American Dental Association (ADA) sponsors National Children's Dental Health Month each February to raise awareness about pediatric oral health.
It is important for children to develop proper oral hygiene habits to keep their teeth and gums healthy and strong.
When to Begin
Even before your infant begins to cut teeth, gum care and oral health should be a priority. Wipe the child's gums daily to help reduce the risk of decay. This also establishes a routine so your child will be more comfortable when brushing, flossing, and dental checkups come into play later.
Baby Teeth DO Matter
A common misconception is that baby teeth don't matter since they are temporary. Just like with permanent teeth, tooth decay in baby teeth can affect your child's overall health. Don't let your child's first experience at the dentist involve a tooth extraction.
Teaching proper oral hygiene at a young age will help ensure your child's oral health well into adulthood. In the beginning, you will need to brush and floss your child's teeth. Be sure to explain what you are doing and why. Continue to clean your child's teeth at least twice a day every day.
Eventually, your child will be able to clean his or her teeth without assistance. However, it is best to supervise your child to ensure all teeth are cleaned. Use a small toothbrush with soft bristles and ensure the toothpaste is age appropriate – infants and toddlers need fluoride-free toothpaste. Always encourage your child to spit out the toothpaste instead of swallowing it.
Schedule First Dental Visit
Just like adults, children need to see the dentist regularly. Schedule your child's first dental checkup six months after the first tooth erupts or at one year old, whichever comes first. Help make your child's first dental visit pleasant and positive. A dentist with pediatric experience can help put your child at ease.
This is a new experience for your child, so he or she will look to you for reassurance and guidance. Talk to your child beforehand so he or she knows what to expect. To help ensure your child remains calm and doesn't fear a trip to the dentist, never bribe or use a dental visit as punishment.
Remember, anxiety is not automatic – it is learned. It can be tricky for parents who are anxious about visiting the dentist. However, they need to avoid transmitting this anxiety to their children.
The information and content on our website should not be used as a substitute for medical treatment or advice from your doctor.